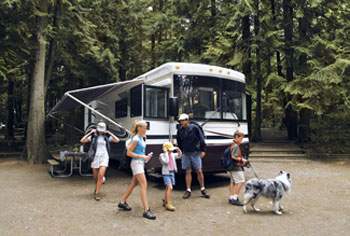 An RV is a highly convenient way to travel, but you should not overlook that RV trips are quite demanding when it comes to planning. If you want to make sure that your RV trip will not be brought to a halt by the sudden discovery that you forgot home something essential, make a checklist and fill it in, before embarking on your trip.
Food and utensils
Plenty of snacks and prepared meals may still not be enough if you want to keep healthy and well fed while on the road. Since you can use some cooking space, you may consider bringing along ingredients for meals you can cook yourself. All the utensils needed, from cups and mugs to pots and knives, should be on your list, too.
Water
Make sure you have enough drinking water for the entire family. If you plan to cook on your trips, getting enough water for that purpose is equally important. Keep in mind that campgrounds have their own water supply, and you can use it, but you may not be comfortable to use it for more than washing.
Sheets and sleeping bags
You will be spending at least several nights in your motorhome, so you should feel right at home. The best way to do that is by bringing along all the needed sheets, sleeping bags, blankets and the like, so you can sleep comfortably.
Bathing supplies
Do not forget about other necessities, like bathing supplies. Soaps, toothbrushes, toothpaste and towels are the basics that should be included on your checklist.
Supplies for outdoor and indoor activities
The last thing you want is for you and your family to get bored on a nice RV trip ( don't forget a good GPS). Bring along your bikes, or other sports supplies you really enjoy. Don't forget to bring a good book, either. In the evenings, you may just want to relax inside.